The Best Portable Fishing Boat
Anglers have quite a few choices when it comes to a portable fishing boat. These include canoes, kayaks, jon boats, and inflatable boats. However, there is one portable fishing boat than all of the others!
The best portable fishing boat is a ten foot plastic pontoon boat. These boats are fairly light. Most importantly, they are very stable. They fit easily in most truck beds.
Capt Jim Klopfer is a fishing charter captain in Florida. He loves to fish small streams and lakes. He has fished in just about every boat imaginable, from tiny one man boats to large sportfishing vessels. He shares his opinion on what he considers to be the best portable fishing boat.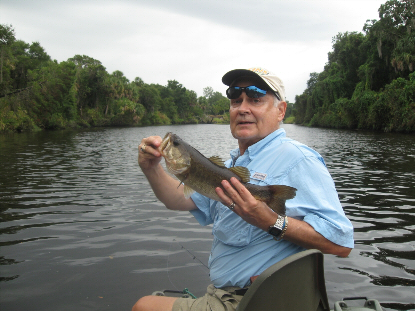 A ten foot plastic pontoon is the best portable fishing boat for several reasons. They weight a bit over a hundred pounds, making them fairly easy to load into a truck. There is no assembly time as there is with an inflatable boat. The design results in pontoon boats being very stable, anglers can stand and fish easily. They do not paddle well but work great with an electric trolling motor. Anglers can add a very small gas motor on the stern as well. Finally, they work well with one or two anglers.
Small pontoon fishing boat advantages
First and foremost, a portable boat needs to be easy to load and handle. At just over 100 pounds, one person can easily load it into a truck bed. While kayaks and canoes are lighter, the long, narrow design makes them difficult to put on top of a vehicle. The wider design of the pontoon boat results in it being quite easy to handle.
Plastic pontoon fishing boats do not require and assembly time, which is the case with inflatable boats. The gear can be left in the boat and then the boat is just dragged to the waters edge and the anglers are ready to go. The seats easily fit into grooves. The boat works well with one or two anglers. It can be set up with the trolling motor fore or aft. A small gas motor can be put on the stern.
The most important factor is the comfort and safety in a small boat. This is where the pontoon boat shines and makes it the best portable fishing boat! Unlike other boats, anglers sit comfortable, can rotate the seat 360 degrees, and can easily and safely stand up and fish. Also, for it's size, there is plenty of storage.
Plastic pontoon fishing boat options
Anglers have several choices when it comes to plastic pontoon boat fishing options. Most two person boats are ten feet long. Some are wired for an electric trolling motor. The design, weight, and layouts are similar, as is the price.
Pelican Bass Raider 10e
Pelican is a well known brand when it comes to plastic fishing boats. They offer fishing boats and kayaks and canoes. The Pelican Bass Raider 10e is pre-wired for a trolling motor and has fold down seats for better storage. It is a great little boat for a reasonable price.
Bass Pro Shops Pond Prowler 10
The Bass Pro Shops Pond Prowler 10 is another ten foot plastic pontoon fishing boat. It also has swivel seats and is wired for a trolling motor fore and aft. It is similar to other boats in this class.
The Bass Hunter EX is another nice pontoon fishing boat. It has a few extra little features including dry storage and can handle a larger motor. A dolly is available as well.
Portable fishing boat fishing and safety
All boats are a compromise, and a portable fishing boat is no exception. The benefits are cost, portability, easy of maintenance, and storage. The main downside is the size. These boats are made for small, sheltered waters. They should not be used on larger bodies of water where there is a chop. The gunnels are not high and once water starts coming over the rails, it will quickly fill up.
Anglers should always have safety gear on board. This includes a whistle or horn, personal floatation devices (life jackers), a throwable cushion, an anchor, and a paddle. Lights are not required during the day. These boats excel at quietly fishing small waters. They are perfect for mid sized streams!
More portable fishing boat options
While the ten foot pontoon fishing boat is Capt Jim's personal choice when it comes to a portable fishing boat, there certainly are other options as well. These mainly include jon boats, kayaks, canoes, and inflatable boats. Like all boats, they all have advantages and disadvantages.
Jon boats
Jon boats are similar to the pontoon boats and have been used by anglers requiring a portable fishing boat for many years. They are fairly light and stable, reasonably priced, and fit in the bed of a truck or van easily. They do not row or paddle well, for the most part. They run fine with a gas motor or electric motor on the stern or an electric motor on the bow. Jon boats are also noisy as they are made of aluminum and the metal can get hot to the touch in the sun. Pelican does make a 12 foot plastic Jon boat.
Fishing kayaks
Kayaks have become very popular of late. Anglers have many choices when it comes to a goof fishing kayak. Some are sit on top models which are less stable but are more comfortable. Kayaks paddle very easily and can even cut through a little chop. They are a good choice when the boat need to be transported on top of a car.
While kayaks are lighter than pontoon boats, they get heavy quickly. A 70 pound kayak can be surprisingly difficult to handle and put on the roof of a car. Also, anglers, in most cases, can't stand up and move around in a kayak. They are clunky with a trolling motor as well. Finally, two person kayaks do not work as well with just one person. Some anglers use trailers to pull them, but that kind of defeats the purpose of a portable fishing boat.

Canoes
Canoes have become less popular these days, though they are still excellent choices for anglers seeking a small, portable fishing boat. As with kayaks, they are a good choice when the boat needs to be transported on a car roof. Canoes paddle easily, but do not match well with motors. They have a lot of storage but are a bit less stable than other boats.
Inflatable fishing boats
Inflatable fishing boats have really gained in popularity of late. The main reason for this is the space and portability. They fit in the trunk of most cars. Some can even be taken on an airplane! Capt Jim has a raft that he uses in the North Carolina streams and rivers when he fishes up there. Anglers can choose from 1-3 person rafts, canoes, and fishing boats.
The main down side to inflatable fishing boats is the set up time. They obviously need to be inflated and most rafts have some type of metal frame that needs to be assembled. This can take up to 30 minutes. Also, they can be punctured. Finally, inflatable boats are not quite as stable as solid boats.
In conclusion, this article on the best portable fishing boat will help anglers make the best choice in a small boat.