Siesta Key Fishing Charters
Many anglers enjoy going out on Siesta Key fishing charters. Siesta Key is world famous for her beaches, restaurants, shopping, and more. However, Siesta Key offers visiting anglers a variety of fishing opportunities.  Six to eight species are landed on most trips.  Speckled trout, snook, redfish, tarpon, Spanish mackerel, sheepshead, and many other species are targeted.  The deep grass flats, passes, back country bays, and inshore Gulf of Mexico all produce year-round.
One of the advantages of fishing charters in the Sarasota and Siesta Key area is the wide variety of available fishing opportunities. We have over two dozen species that are available at one time of year or another. On most trips, anglers catch 6 to 8 different species. Anglers of all ages and experience levels can take advantage of this.
There are many different species to target on Siesta Key fishing charters. There are also several different techniques to employ. I would say that the majority of the fish caught with me by clients are done so using two different methods. Fishing the passes and drifting the deep grass flats produce a lot of fish for my customers.
Florida is flat. Therefore, the geography underwater is similar to that on land. Sarasota Bay is only about 10 feet deep maximum. There are acres and acres of submerge grass beds. We call these grass flats. These grass beds that exist in water between 5 feet deep and 10 feet deep are extremely productive for a variety of species
Fishing the deep grass flats in Sarasota Bay

Speckled trout are caught on these deep grass flats all year long. They are plentiful, aggressive, beautiful, and not overly challenging for the novice angler. They are also very good to eat for those clients who want to keep a couple fish for dinner. Capt Jim drifts the deep grass flats and using both live bait and artificial baits. Many other species are caught doing this as well.
Spanish mackerel, pompano, jack crevelle, gag grouper, bluefish, mangrove snapper, flounder, ladyfish, catfish, sharks, cobia, and sea bass are just some of the other species that anglers will catch will targeting speckled trout on the deep grass flats. The variety of species caught is definitely one of the high points of the charter.
Fishing the Siesta Key passes

There are two passes in Sarasota. They are Big Sarasota Pass and New Pass. These passes connect Sarasota Bay with the Gulf of Mexico. On the West Coast of Florida they are called passes, but they are basically inlets. They are veritable fish highways. Fish use them to migrate between the Bay and the Gulf.
Big Pass lies at the north end of Siesta Key and has fish in it all year long. There are two types of fishing we do in Big Pass; bottom fishing and drifting. The entire north shore of Siesta Key is covered with structure such as submerged rocks, docks, and seawalls. These hold bottom fish such as sheepshead, mangrove snapper, black sea bass, Key West grunts, grouper, drum, and pompano.
Bottom fishing is as basic as it gets. Anglers take a baited hook and just drop it straight to the bottom, no casting is even required. Anglers with no experience can catch fish using this method right away. Live or frozen shrimp is the preferred bait. Sheepshead are thick in the passes December through April. Snook are plentiful in the summer. Snapper are present all year long.
Clients also catch a lot of fish drifting in the passes. This is another fairly easy fishing technique that can be learned in short order. There is usually current present in the pass. Anglers bounce jigs along the bottom or free line a shrimp out behind the boat as it drifts along with the current. This drifting covers a lot of water and helps anglers find the fish.
Ladyfish school up thick in Big Pass. These are great fish for anglers to practice on. They hit hard and almost always jump several feet up out of the water. It gives children and novice anglers a chance to fight a fish that takes drag. However, there is no pressure to land it as they are not good to eat and are usually plenty of them. Mackerel, bluefish, and pompano are also commonly caught drifting the passes.
Siesta Key fishing charters use live bait
Capt Jim uses live bait on many of his Siesta Key fishing charters, especially with small children on board. Using live bait is easier for them and increases the odds of success. Live shrimp are the number one live bait in Sarasota. They are available all year round and catch just about everything that swims. Dead or frozen shrimp works well for many bottom species.
Capt Jim also uses a cast net to catch small bait fish. This is mostly done in the warmer months, especially in the heat of summer. Scaled sardines and thread fin herring along with pin fish and grunts are most commonly caught. Live bait fish can be fantastic baits and will often catch larger fish then shrimp will. They also don't get harassed by the little bait stealers.
In the summer time Capt Jim does a lot of live bait chumming. This is an incredibly productive technique! It is also another great method for children and inexperienced anglers. Once the bait well is loaded up with minnows, he anchors the boat. Next, he throw a few handfuls of the live bait out behind the boat. It usually doesn't take long before these freebies attract the game fish.
When the tide is right in the bait is easy, this method is deadly. I have had many Siesta Key fishing charters that produced over 100 fish for three anglers in a morning. Speckled trout, Spanish mackerel, mangrove snapper, bluefish, grouper, and loads of ladyfish respond to the live chum. We also use this technique along mangrove shorelines to catch snook and redfish.
Artificial lures on Siesta Key fishing charters

Artificial lures are used often on Siesta Key fishing charters. Clients are often surprised to learn that on many days, lures will actually out fish live bait. This is especially true in the cooler months when fish are more active in eight is less plentiful. In this situation, fish are more apt to chase down a lure.
The number one artificial bait on the West Coast of Florida by far is the lead head jig and grub combo. A jig is a hook with the weight at the front of it. This weight provides casting distance as well is giving the bait a specific action. The jig hops and falls as its retrieved through the water. That is how it gets its name!
The jig hook is then adorned with some type of plastic trailer. For the most part, these are made to mimic either shrimp or bait fish. The two most popular are paddle tails and shad tails. Both are very effective. I prefer lighter colors in clear water and darker colors and stained water. I also believe that presentation is much more important than color.
This is an easy lure to use. I have converted many live bait anglers! The jig is cast out, and allowed to sink several feet. It is then retrieved in using sharp hops with a pause in between. Most strikes occur as the jig is falling. I'm sure it looks like a wounded and helpless shrimp or bait fish as it slowly blotters down.
Fishing with plugs in Sarasota
The other artificial lure that I use quite often is a plug. This is basically a plastic imitation of a bait fish. I generally use these with more experienced anglers. Plugs come with a pair of treble hooks. That, along with and inexperienced angler, is not a great combination.
I use plugs to work shorelines for snook, jacks, and redfish. Plugs allow anglers to cover a lot of water fairly quickly and they draw some exciting strikes. Mangrove shorelines, oyster bars, and docks in the backwater areas produce for anglers casting plugs. They are also effective trolled on the deep flats and off the beaches.
I choose plugs most of the time for anglers who want to target snook and other species. These lures closely mimics the finger mullet and other bait fish that the game fish feed on. They float at rest and dive several feet down when sharply twitched. This also results in less snags then when using jigs.
Fishing the inshore Gulf of Mexico
Fishing just off the beaches and the Gulf of Mexico can be fantastic when conditions are right. In the spring and the fall huge bait fish migrations occur along the entire coast. Of course, the game fish are right on their heels. Spanish mackerel and false albacore are the primary species. However, sharks, cobia, tarpon and other species can be hooked as well on Sarasota Florida fishing charters.
After a day or two of east wind, it will be calm along the coast. These are the conditions that we are looking for. Not only do I want my clients to be comfortable, but it needs to be calm in order to see the bait fish and feeding game fish. One of the most exciting aspects of this is that often times fish will be feeding right on the surface. We call these "breaking fish". It is always fun finding this situation as just about any lure or bait get instantly attacked.
Trolling in the Gulf of Mexico

Trolling is a great way to catch fish in the inshore Gulf of Mexico. Once again, it is an extremely easy technique for inexperienced anglers. I simply draw the boat around while dragging a lure behind and waiting for fish to eat it. The fish takes, the rod bends, and the fish is hooked. The angler only has to reel it in, no casting required.
Experienced anglers will enjoy the fun of casting to these breaking fish. I position the boat upwind of a school of feeding fish, whether they be mackerel or false albacore. The angler then cast into the school and begins a fast, erratic retrieve. These fish are in a feeding frenzy and are very aggressive and will eat just about anything shiny that's moving. I use jigs, plugs, and spoons effectively in this situation.
There are several artificial reefs a couple miles off the Siesta Key and Sarasota beaches. These are fish magnets in the otherwise barren Gulf floor. Bottom fish such as sheepshead, grouper, snapper, and flounder will be found there most of the year. Spanish mackerel will be thick on these reefs in the spring and the fall. They provide great fishing when the seas are calm.
River fishing charters in Sarasota

I also provide anglers a unique experience, one that no other guide offers in this area. I take clients on river snook fishing charters.  There are several rivers that are a short drive from Siesta Key beaches. In the wintertime, snook migrate up into these rivers. Using my 14 foot John boat, anglers drift the rivers casting plugs towards the shoreline in hopes of fooling a trophy snook.
This charter is best suited for experienced anglers. It produces less in terms of numbers than the bay fishing trips usually do. However, there is always the chance to land a true trophy fish. Snook 225 inches are caught on most trips. 30 inch fish are common and 40 inch snook are landed every season.
The scenery is part of the attraction to this charter as well. It has a "freshwater"feel to it. In fact, this water is brackish and largemouth bass are commonly caught. This is "Old Florida"and has a kind of Amazon like feel to it. It is a great experience and one that is less than an hour away from Siesta Key.  I run out of Snook Haven on the Myakka River. 
Siesta Key fishing charter species
Snook
Snook are the premier inshore game fish in Florida. They are ambush predators. These fish will usually be found near structure of some sort such as bridges, docks, mangroves, and oyster bars. Snook take artificial and live baits. They grow to 40 pounds are put up a terrific battle!
Snook have a local, seasonal migration. They are found in creeks, rivers, and canals in the winter. In spring and fall they are found throughout the flats in Sarasota Bay and Robert's Bay. They spend their summer in the passes and out on the beaches.
Speckled trout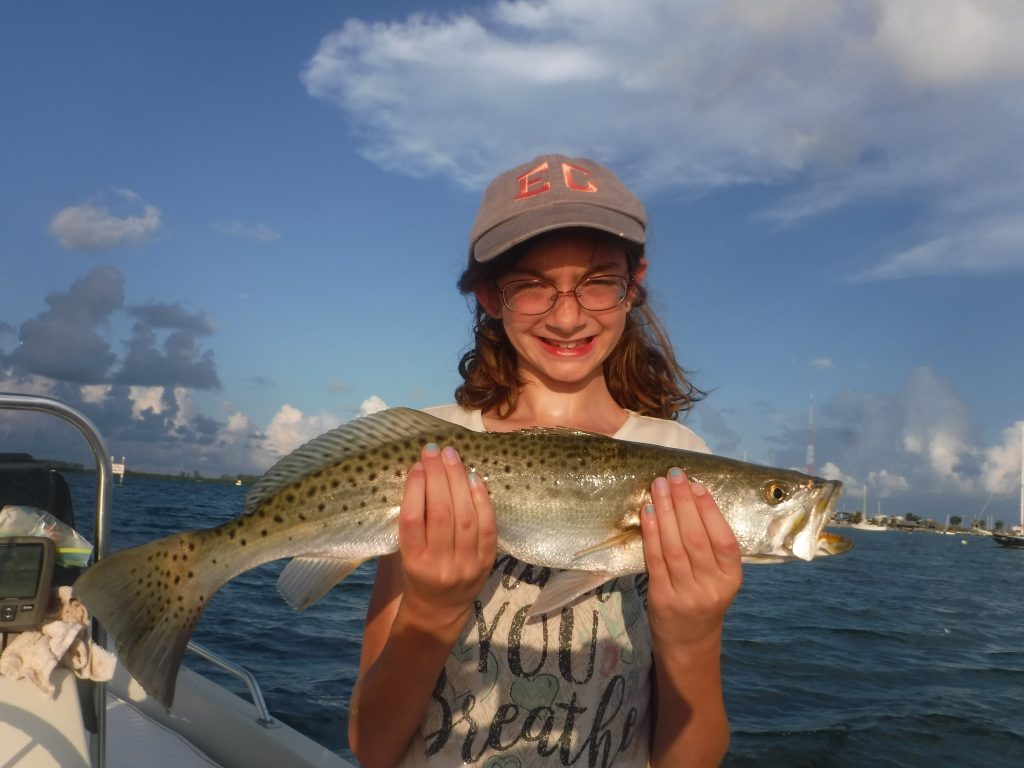 Speckled trout may be the most popular inshore species along the entire Gulf Coast. Trout are beautiful fish, school up in decent numbers, are fairly plentiful, and taste great. The vast majority of speckled trout in Sarasota are caught on the submerged grass beds in 5′ to 10′ of water.
Speckled trout are caught by anglers using live shrimp and small bait fish. Shrimp are available year round while bait fish work better in the warmer months. Artificial lures such as jigs and plugs work well, too.
Redfish
Redfish are another very popular fish species. They are found individually or in small bunches for most of the year. They are caught under docks and on the shallow flats. In late summer, they school up into large schools. Reds are targeted this time of year on the shallow grass flats in north Sarasota Bay. Jigs, plugs, and live shrimp account for most of the redfish caught.
Spanish mackerel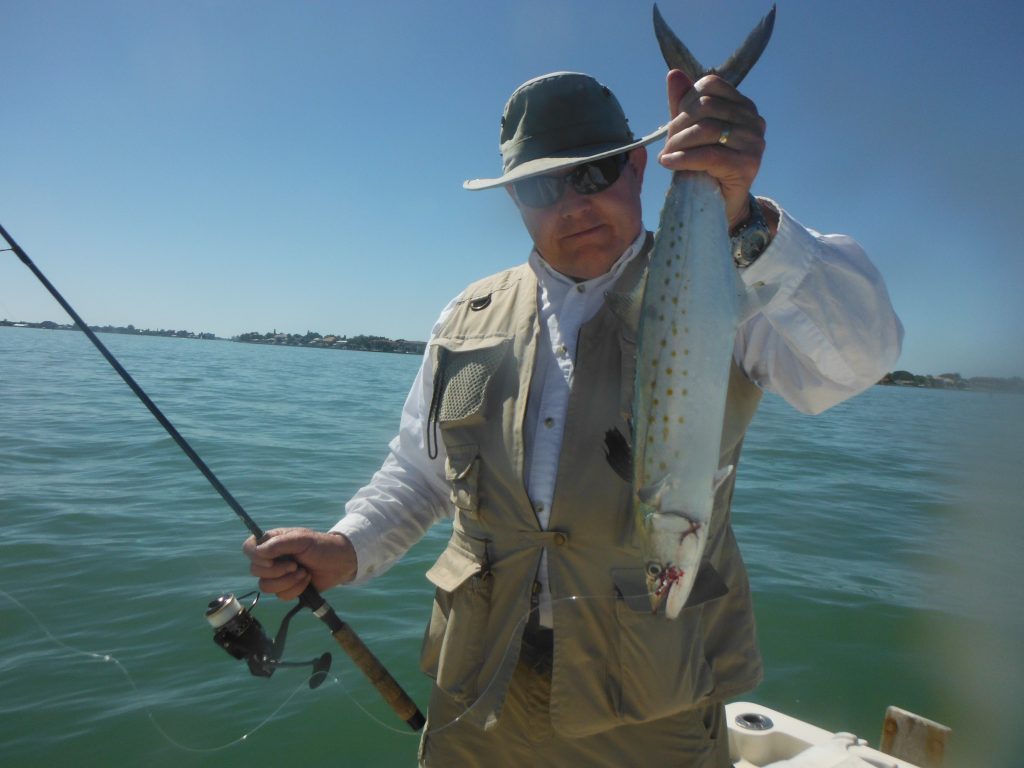 Spanish mackerel are a pelagic species that migrate through the area. Prime times to target Spanish mackerel are spring and fall. However, they can be found all year with the exception of cold water, below 65 degrees. Mackerel are very fast fish. Spanish mackerel love fast-moving lures. They will also take live bait. They taste great when eater fresh but do not freeze well.
Bluefish
Bluefish are a hard-fighting fish species that are found in Sarasota in the cooler months. Blues are most often caught by anglers casting lures for trout and other species. They prefer slightly deeper water and are found over grass flats and in the passes. They school up and are very aggressive. Bluefish are oily, but the small ones are decent to eat when fresh.
Pompano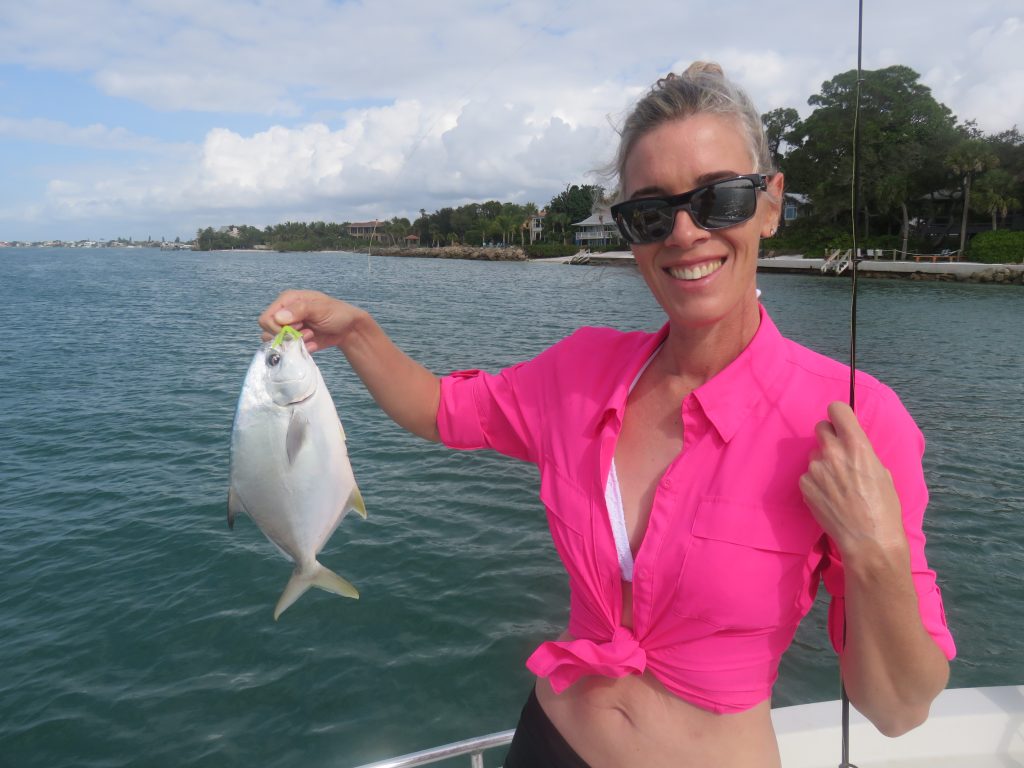 Pompano put up a great fight for their size. However, their real value is on the dinner plate. Pompano are perhaps the finest eating fish that Sarasota offers. The swim around in schools of varying size. They feed on the bottom, mostly eating crustaceans. Small jigs and shrimp fished in the passes and on the flats produce most of the pompano caught. Surf anglers catch them using jigs, shrimp, and sand fleas.
Sheepshead
Sheepshead are a bottom dwelling saltwater panfish. They are members of the porgy family are are very good eating. Sheepshead move in to spawn around structure in winter. They are found in good numbers in Sarasota from January through April. Sheepshead are rarely caught on lures. Shrimp are the most popular bait, but sand fleas and fiddler crabs work well.
Mangrove snapper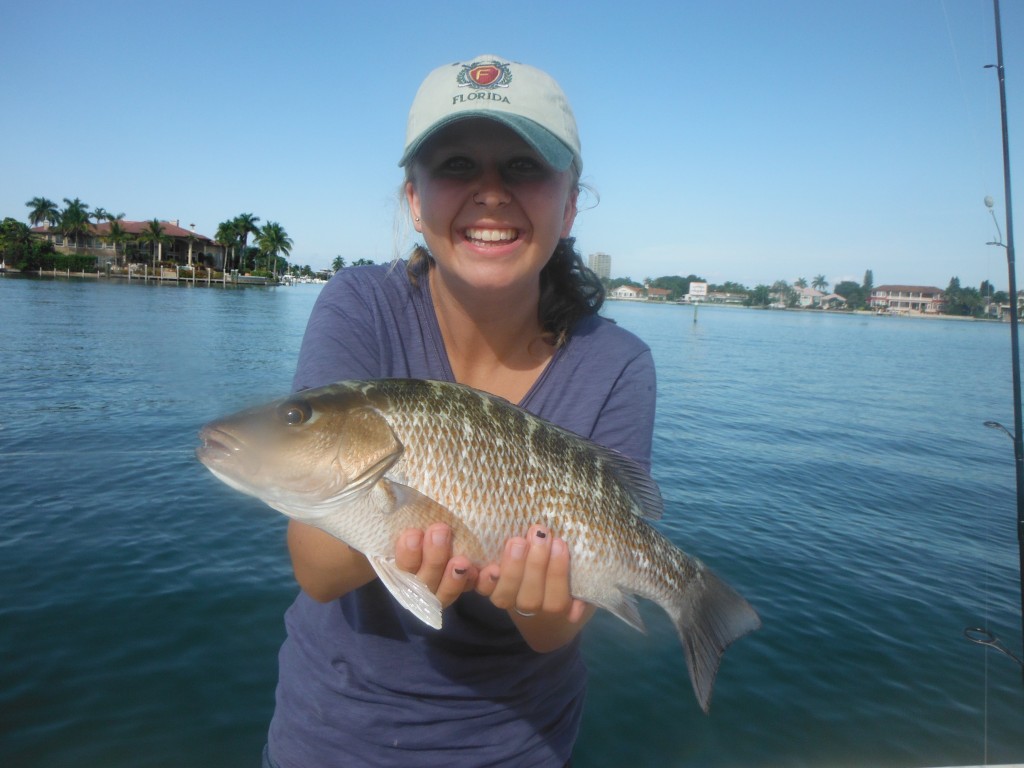 Mangrove snapper are available all year long in Sarasota. While small, they are plentiful and feisty. They are also superb eating, right there with pompano. Most snapper are caught by anglers using live shrimp and small bait fish. Snapper will take small lures as well. They are found near docks, bridges, underwater ledges, oyster bars, and mangrove shorelines.
Jack crevalle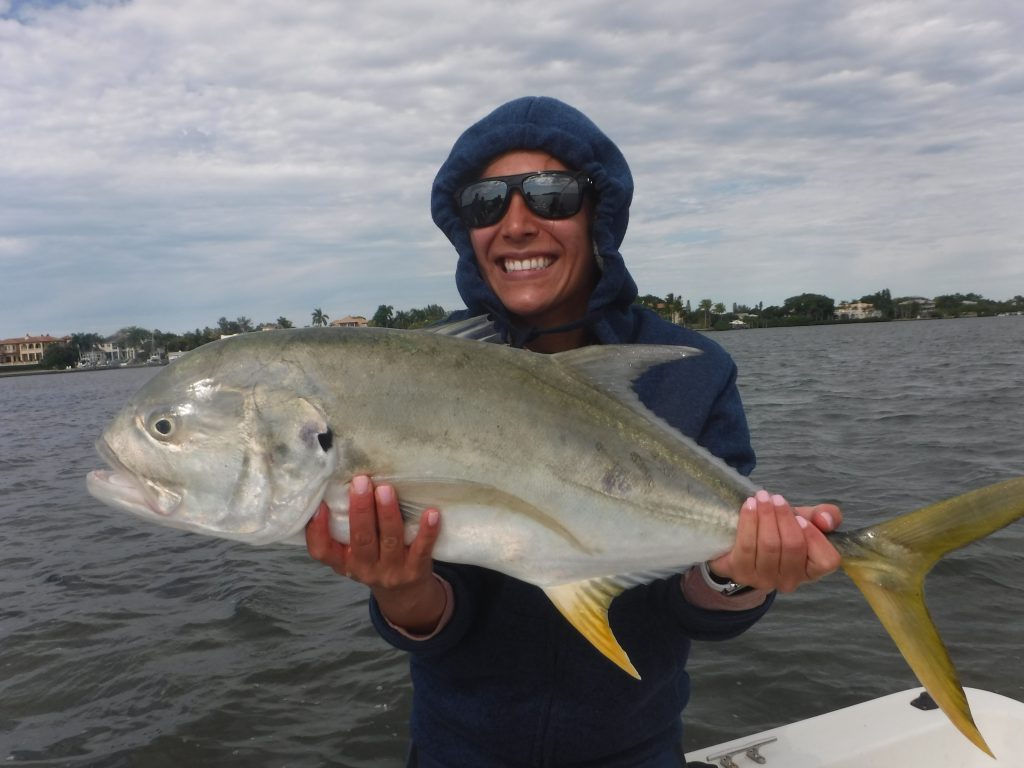 Jack crevalle are one of the hardest fighting fish that we have in Sarasota. They have broad sides and large tails. Jacks are aggressive and very powerful. Jacks also are a school fish and that feeds into their aggressiveness. While live bait works, jack crevelle are much more fun to catch on lures such as jigs and plugs. Jacks are not considered good to eat.
Ladyfish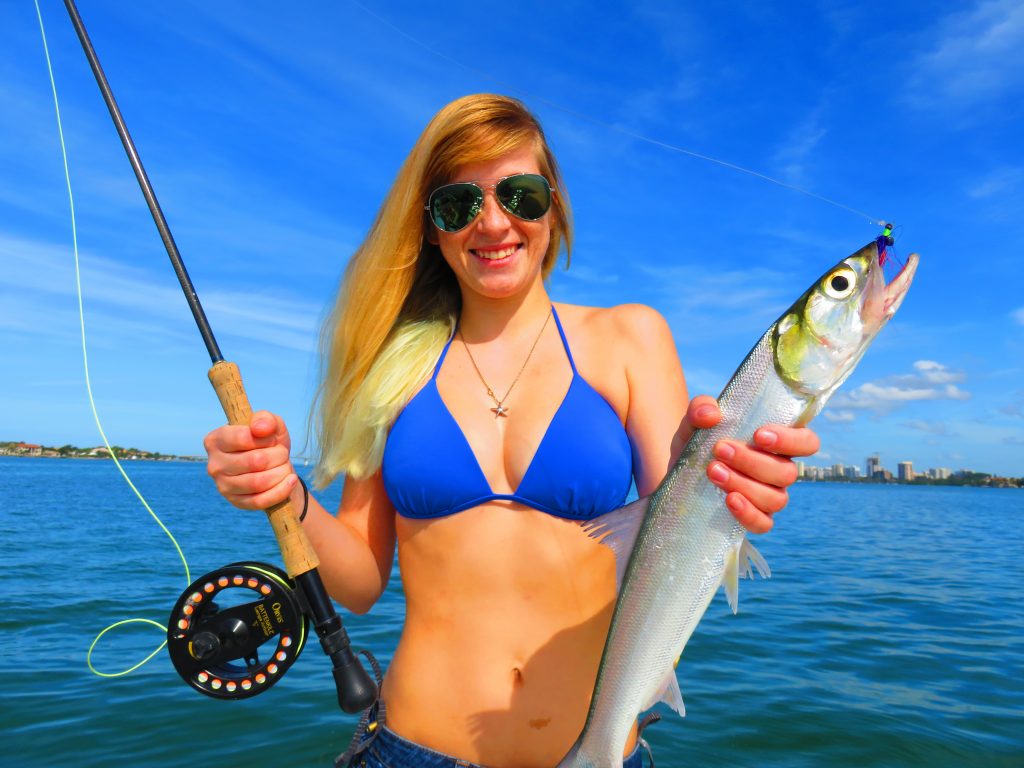 Ladyfish are great fun! Locals disparage them as they are not good to eat. However, they provide great action on Siesta Key fishing charters. They are numerous, school up, are aggressive, and leap high up out of the water. Ladyfish are great for novice anglers and children looking for a bent rod. They bite year round and readily take lures and live bait.
False albacore
False albacore are found in the inshore Gulf of Mexico in the spring and fall. They migrate along with the bait fish that they feed on. Conditions need to be right to catch them. It needs to be calm with clear water. When it all comes together, the action can be fantastic! They are not good to eat.
Sharks
Small sharks are always a crowd pleaser, especially with kids. They are caught randomly on charters. Summer and early fall are the best times to target them. Sharks will usually be found near schools of mackerel in the inshore Gulf of Mexico. Blacktip and bonnethead sharks are the species most often caught.
So in closing, if you are visiting our area and enjoy fishing, I hope that you will book one of my Siesta Key fishing charters. I work hard and will do everything I can to make the trip enjoyable and productive!
Spring Siesta Key fishing charters
Siesta Key Beach is world famous and attracts many visitors in March.  In fact, it just won the prestigious award for " Best Beach".  Young ladies flock to the famous white sand beaches during Spring Break to soak up the sun.  But many come to fish, too.  This time of year, families make up the majority of my charters and most of these trips include at least one female angler.  Sarasota offers great family-friendly fishing for a variety of species.  Vast experience is not required, just basic skills and the desire to have a good time.
Deep grass flats are very productive, offering reliable spring time fishing.  Speckled trout, silver trout, pompano, Spanish mackerel, ladyfish, bluefish, jack crevelle, mangrove snapper, gag grouper, cobia, sea bass, and flounder are all regular catches.  Both anchoring up and drifting are equally productive, depending on the tide and wind.
The most popular artificial lure in this area is the jig/grub combo.  This is a lead head jig with a plastic tail which imitates a shrimp or bait fish.  Bass Assassin manufactures a full line of effective products; my personal favorite is the red/gold shad tail on a ¼ ounce jig head.  The lure is cast out in front of the boat as it drifts across the flat.  It is allowed to sink several seconds then is retrieved back with a twitching motion.  Most strikes come as the bait falls.
In conclusion, this article on Siesta Key fishing charters will help anglers understand the options for a great fishing trip with Capt Jim!